Graduate engineer passionate about nature and the environment, Valentine has been living in London for over 6 years.
After obtaining a first degree in Economics, Politics and International Relations in London (B.Sc), in 2018, Valentine entered the world of engineering and environmental sciences earning a more technical background and obtaining a second degree (B. Eng) at University College London (UCL).
Curious and with an entrepreneurial spirit, she is convinced that it is by asking the right questions that the biggest challenges can be overcome. 
Since 2020, Valentine has been working with clients in the sustainable management of their site. From water harvesting systems to enhancing landscapes, optimising resources and adjusting cultural practice programmes, she is determined to make a difference and deliver real solutions to her clients. Valentine strongly believe in the power of data-driven decision-making models to drive innovation and positive change !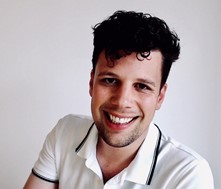 Tom is a Mechanical Engineering lecturer at University College London, having previously studied at the University of Oxford (DPhil in Biomedical Engineering) and the University of Cambridge (MEng in Civil, Structural, and Environmental Engineering).
At Global Vision Engineering Tom provides expertise on numerical modelling, research methods, and the scoping of technical solutions. His academic research focusses on modelling biological fluid flows, with applications in lean design and medical device development. Tom is a passionate believer in the need for applied and interdisciplinary research, especially for tackling two of the biggest challenges we face in the 21st century: climate change and health.
He is a co-inventor of the UCL-Ventura CPAP breathing aid, which was developed in 2020 with University College Hospital and Mercedes-AMG HPP. The project saw 10,000 non-invasive ventilators supplied to the NHS to treat COVID-19 patients, with the design also released for non-profit use worldwide.
Would like to know more ?